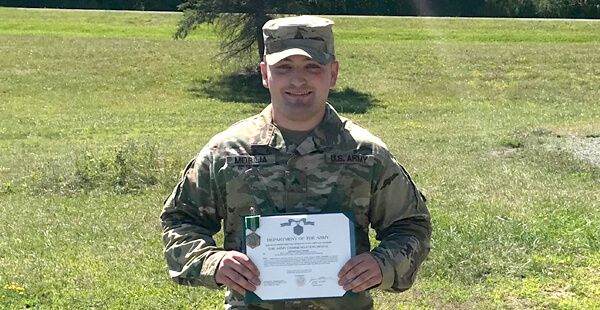 Nick Mobilia knew at the age of 14 that he would join the military when he graduated from high school. It was a promise he made to his mother during their last moments together.
In 2015, Mobilia fulfilled his mother's wish and entered the Army, where he served as a combat engineer stationed at Fort Drum. His mother's brave battle with cancer and her wish for him to serve his country gave him strength during military combat. "I was able to put the obstacles I faced in the military into perspective, remembering the battle she fought," says Mobilia.
While on active duty, he completed a tour of duty in Afghanistan in support of Operation Freedom's Sentinel. In 2017, Mobilia was recognized at the Pentagon by the Sergeant Major of the Army as a representative for the Better Opportunities for Single Soldiers (BOSS) program at Fort Drum. The program addresses the well-being and morale issues of the single and unaccompanied soldiers in their units. As a representative, he was selected to travel to Washington, D.C. to represent the 10th Mountain Division and to escort Gold Star Families at Arlington National Cemetery on Memorial Day. "It was what I consider my biggest accomplishment to date," says Mobilia. "It was an incredibly humbling experience that I will never forget."
Mobilia retired from the service at the end of August. In January, while still on active duty, he was accepted into the Bachelor of Professional Studies program (B.P.S.) at University College and began his coursework for a degree in cybersecurity administration. "I chose this program because the digital world has become an increasingly dangerous place, with more threats than ever before," explains Mobilia. "Enrolling in this program to learn how to lead and manage teams that work to prevent, detect, and respond to cyber attacks is incredibly appealing." Mobilia said that while in the military, he quickly learned that cyberspace is becoming one of the world's future battlefields and that gaining knowledge and expertise in this field is very important for the future safety of our country.
The military also taught him to be an effective leader. "I learned that everybody comes from different walks of life and has something to contribute," he says. "Approaching people with different leadership styles and learning exactly what they have to offer is how I learned to build great working relationships and an even better team."
Mobilia now uses the skills he learned in the military to be successful student. "The skills I apply the most to my life and my education are discipline and goal setting." When he entered the military, Mobilia was told to set attainable goals for his career and develop specific strategies to accomplish them. "I learned that writing down my plan and taking a small step forward every day was the best way for me to meet my goal of becoming Sergeant." Mobilia says that he uses that same strategy in his quest for a college degree. "My plan includes short term goals like reading a certain number of textbook pages each night or completing a certain number of credits each semester," he explains. "Breaking down a long-term goal into smaller pieces makes the process more rewarding and a lot less stressful."
Mobilia credits his grandfather for his strong work ethic. "My grandfather served in the Air Force and has been a really great role model," he says. "Growing up, he was the first person to teach me what hard work really was. He did this by showing me how to do yard work and garden. Both require patience and determination."
The Cybersecurity Administration degree is fully online with a synchronous component. The weekly live session gives Mobilia the opportunity to learn and connect with students and professors from across the country. "So far, I love the program and am excited about my future with University College. My favorite part so far has been the small class sizes with thoughtful professors who really want us to learn."
Like many part-time students, Mobilia juggles his coursework with work and other obligations and admits that time management has been his biggest challenge. "Working full time as an active duty soldier and studying was not easy," he says. "I had to plan out my days and weeks. Most weeks, I would have to look ahead at our training schedule and figure out ways to free up time each night for coursework while still being an active leader."
While Mobilia continues his educational journey, he recently accepted a position as a superintendent trainee at Maine Drilling and Blasting—another opportunity to put his leadership skills to work. His hope is to become an information security analyst in a leadership role. His long-term goal is to become an IT specialist for a professional sports team.
He knows that his mother would be proud of all that he has accomplished. "I plan on continuing to make my mom proud by getting my college degree," says Mobilia.
"I learned so much from my time in the Army. When I made that promise to my mom to serve, I did not know how much I would accomplish and grow as a person. I plan to take everything I learned from the military and apply it to my studies at Syracuse University," he says.