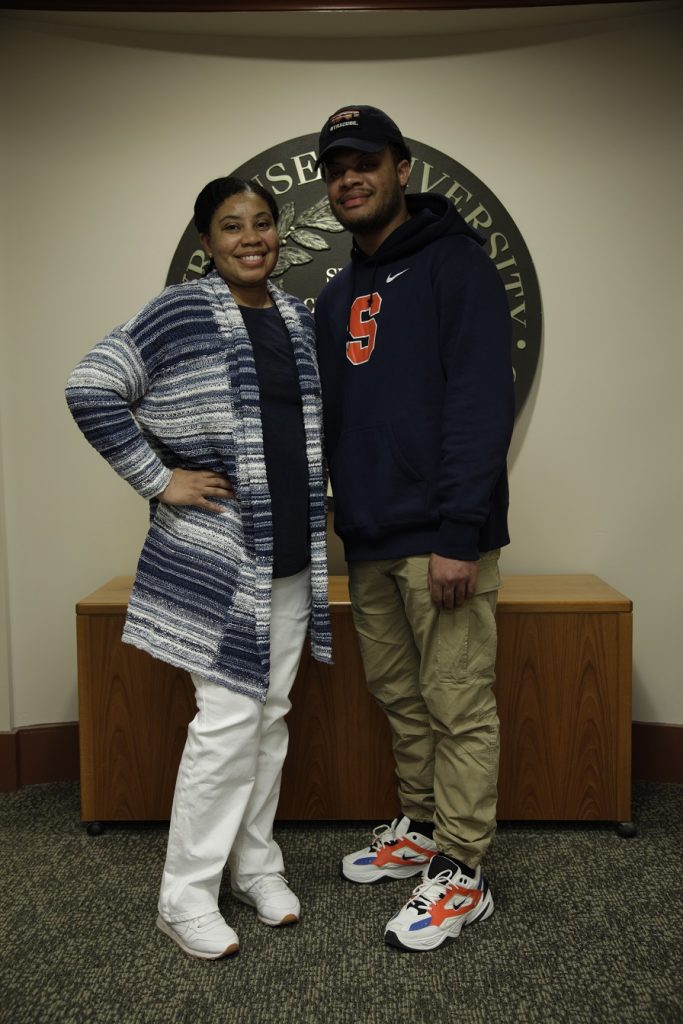 Ronnie Holmes III knew by fourth grade that he wanted to pursue a career in engineering. And he knew that the Syracuse City School District's Say Yes to Education program would make it possible for him to earn the college degree needed to achieve that dream. After attending five different schools in the district, Holmes graduated from the Syracuse Academy of Science in 2016 as class salutatorian.
Holmes says that he strived to be the best student he could be and was motivated by his own personal desire to succeed. "But the majority of my motivation comes from my mother, who is earning a degree in political science through University College," he says.
Holmes saw firsthand the struggles and challenges his mother overcame as she worked full time while raising a family and attending college as a part-time student.
In May, Holmes will be in attendance when his mom, Angela Gunn, graduates from Syracuse University with a bachelor's degree in political science from the College of Arts and Sciences and the Maxwell School. "I feel a great sense of pride knowing that, against all odds, she was able to persevere and conquer such adversity. It is difficult to describe how I will feel when I watch my mom walk the stage," says Holmes.
Like her son, Gunn looked for an affordable way to attend college. She found it through the Arthur O. Eve Higher Education Opportunity Program, which provides access to Syracuse University for economically and educationally disadvantaged students from New York State.
"You face many challenges as an adult student," said Gunn in a 2016 interview for the UC Priorities newsletter. "A heavy workload, chapters to read, papers to complete, lots of studying and being in classes with students the age of your children can be intimidating."
But throughout her academic career, Gunn always put her children first. "Ronnie and his three sisters are what keeps me motivated," says Gunn. "I want them all to make the most of what purpose they have for being here on this earth. Their talent is not for them, but to help or assist someone else."
Gunn's children have many individual talents, and Holmes found his talent at an early age. "I knew that Ronnie had the potential to do something big," she says. "I used to buy him different types of toys that he would have to put together and sure enough, he would. I wasn't surprised that he decided to make a career out of it."
Holmes also began his career at Syracuse University as a part-time student at University College. And, like his mom, he works full time while attending college. Holmes works as an assistant manager at Finish Line.
"Studying part-time made it easier to balance working and attending college," he says. "The time I spent as a part-time student helped me familiarize myself with what college is like and gave me a chance to get comfortable with the academic environment on campus."
After two-and-a-half years at University College, Holmes is now enrolled full time in the College of Engineering and Computer Science, working toward a degree in aerospace engineering. "A STEM career has always seemed the best fit for me due to my curiosity and desire to understand the world around me and how things work," says Holmes. "As an aerospace engineer, I will be responsible for the development of aircraft and space craft. I am intrigued by the idea of being a part of the development of what we put in the air in the near future."
The pair motivate each other to succeed. "My mother inspires me to never settle for less. I have seen how hard she has worked to get where she is today and I would like to do the same in my own life," says Holmes.
Gunn has dreams of her own as well. "I would actually like to go graduate school and pursue a career in law," she says. "That's my dream job." Gunn says that having a college degree means she won't have to place any limitations on what job she can have in the future.
"People should know that their plans are not impossible and their goals are not out of reach," added Holmes. "I've conquered what I would otherwise have thought impossible by having faith."