Bea González, dean of University College, was recognized with a Community Service Award by the Syracuse/Onondaga County NAACP at the 35th Annual Freedom Awards Banquet held in May.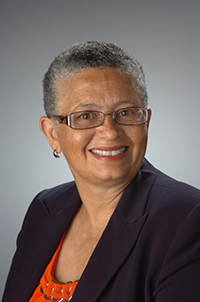 The Community Service Award is the most distinguished honor given by the NAACP to an individual, community-based organization, agency or business in the public or private sector. It recognizes those who have substantially improved the quality of life in our community, especially for those who are impoverished, oppressed, abused or disenfranchised.
González began her career as an academic advisor at Syracuse University in 1987. She quickly moved through the ranks from academic counselor to dean of University College. She became the first Latina on the Syracuse City School District's board of education in 1991, the first Latina to serve as president of the Syracuse Common Council and the first Latina candidate for Syracuse mayor in the city's history.
González has spent her life advocating for those who have not had a voice in our communities, schools, neighborhoods and political systems. She has received numerous awards and recognitions through the years, including being named a Hispanic American of Distinction in New York State and an Unsung Heroine by the Central New York National Organization of Women.
In addition to her dedicated community service, González was recently elected president of the University Professional & Continuing Education Association for 2014-15. She has served on and is a member of several professional organizations, including the Association of University Summer Sessions, the Education Commission of the States, New York State Representative and the National Association of Latino Elected and Appointed Officials.
Founded in 1909, the NAACP is the nation's oldest and largest civil rights organization.