University College honored the part-time undergraduate students of the Class of 2014 at its 66th annual Convocation and Commencement Celebration held May 8 at Hendricks Chapel.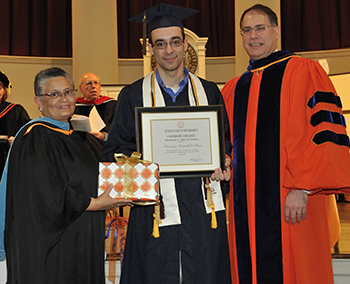 Dean Bea González presided over the ceremony, which featured keynote speaker Rabbi Charles Sherman, author of "The Broken and the Whole: Discovering Joy after Heartbreak." The part-time undergraduates eligible to receive degrees through the University represented 10 schools and colleges and 38 majors within the University.
University College named eight students as prestigious Alumni Scholars. Each of these bachelor's degree candidates earned a minimum GPA of 3.705. Alumni Scholars are Edward Cogan II, Christine Dunagan, Laura Lawson, Susan Miller, Alexander O'Mara, Penelope Singer, Carolynn Steele and Allison Villa.
O'Mara also earned the prestigious Nancy C. Gelling Book Award, given annually to the part-time student who achieves the highest overall grade point average for a first bachelor's degree.
The College of Visual and Performing Arts awarded Penelope Singer the Sylvia Wyckoff Award for outstanding academic achievement.
Additionally, UC awarded the Excellence in Teaching Award to Craige B. Champion, associate professor in the Maxwell School. The Excellence in Online Teaching Award was presented to Molly Voorheis, an instructor in the Writing Program in the College of Arts and Sciences. The Staff Service Award went to the Office of Student Assistance, represented by director Sarah Solomon. Larry Higbee, owner/president of Higbee Inc., was awarded the Employer Service Award for his partnership with the TEDCenter working together on an Unemployed Worker Training Program.
The ceremony was immediately followed by a reception in the Heroy Geology Lab Atrium.
Commencement Gallery
[nggallery id=1]