Establishing goals for professional success is important, and few are more knowledgeable than William Smullen, director of National Security Studies at the Maxwell School and former chief of staff to Secretary of State Colin L. Powell. Smullen is releasing a new book in April, "Ways and Means for Managing Up." Smullen describes how taking care of business by managing up not only provides a strategic advantage in moving you from one good job to the next; it is a value-added proposition for the organization and the people in it. "Managing yourself and others well is of paramount importance in your professional life," Smullen says.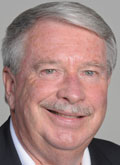 Smullen served 30 years in the U.S. Army, reporting directly to two joint chiefs of staff and to Secretary of State Powell. His book builds on firsthand experience with leaders in charge of millions of people and billions of dollars and describes tips and techniques that helped him and the leaders he served succeed. Smullen will describe how his experience can help other professionals in a three-part seminar titled, "Charting Your Professional Path."
The first seminar, "Ways and Means for Managing Up," is scheduled for Thursday, April 10, at University College's TEDCenter. The other seminar topics, "Communicating in Times of Crisis" and "Strategic Thinking/Strategic Planning," will be held in June. He will be joined by executive coach and business consultant Connie Whitton, who was the former assistant vice president at Strategic Initiatives at SRC Inc. in Syracuse.
Professionals who are interested in advancing their careers are invited to register for the seminar(s) at http://tedcenter.syr.edu/advancecareer/. Participants will obtain an advanced, signed copy of Smullen's new book, and have the opportunity to practice techniques to build confidence and understanding of when to use the skills taught. Class size is limited. Discounts apply when registering for all three classes. For more information, contact Andrea German-Willis at 315-443-5241 or ajgerman@syr.edu.