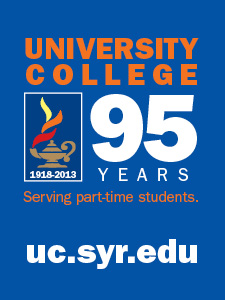 University College is celebrating its 95th anniversary on Tuesday, Oct. 8. UC students and alumni are invited to stop by and help celebrate. Cake and cupcakes as well as coffee, tea or cider will be served in the lobby from 9 a.m. to 6 p.m. (while supplies last). Guests will also have the opportunity to view photographs and a timeline that reflects UC's unique history.
On Oct. 8, 1918, University College offered its first evening class at SU. While UC has been renamed, reshaped and renewed many times, it continues to serve as an entry point for students, a collaborator in business and in the community, and a partner across campus. For 95 years its core mission has remained the same: to open the door of Syracuse University to adults seeking lifelong learning.
For more information, contact Eileen Jevis at 315-443-3527 or ejevis@uc.syr.edu.